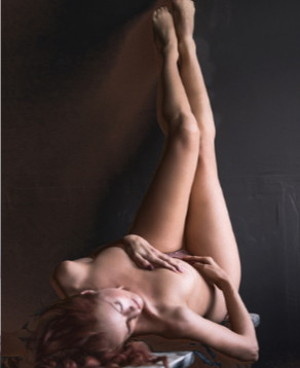 My incall is equipped with a hepa air purification unit,  and is cleaned ongoingly. I consistently diffuse anti viral oils such as lemon and lavender, as well as do regular covid testing. 
I am fully vaccinated, & happy to wear a mask during our (massage) meeting. Please let me know ahead of time.
FULL BODY SENSUAL MASSAGE
Developing a tryst with a masseuse deserves more than one visit, and so I offer you multiple opportunities to find your preferred style of sensual touch. My sessions are available to the gracious gentleman of age 20-60. For the most enjoyable experience, I ask that we stay focused on the style of your choosing during each session. I also enjoy treating the adventurous lady of age 25-50 to extraordinary touch.
SWEDISH MASSAGE: 60, 75 or 90 Minutes

~ 
This style brings an exciting dynamic to the "therapeutic". Unwavering focus on your fulfillment makes it easy to come completely into the moment. This stress-relieving session is a superb way to take time out from a busy day. Tribute your body, allowing all parts of you to be in the moment, at ease. My artful healing and focused presence will soothe your soul. I invite you to visit when you are in the mood to relax and receive; the focus is on you!
* Please note that pressure varies from feather light to semi deep. (no deep tissue)
TANTRIC MASSAGE ~  – One Hour to 2.5 Hours –

Have you ever felt lightning rippling beneath your skin? Are you subtly intoxicated by meditation? Does breathing make you tingle? Tantra integrates ancient eastern practices with deeply relaxing touch. Ride the waves of kundalini energy as I guide you on an exploration of the senses. You can learn to experience greater control and increased duration, or simply surrender to sublime bliss. Connect with the root of your being and awaken your kundalini, or primal life force.
For sessions of 75 minutes and more, I offer to begin our session with a bath ceremony. Tantric massage is about slowing down, so as to truly get into the zone. This is a calming way to break the ice and ease into receptivity. Meditate through the primary energy centers, or seven chakras, while I guide you with subtle caresses into sensing your energy body. This ritual gives you time to deepen your breathing, release tension, and renew your mind, body, and spirit. To experience a bath ritual, please let me know when scheduling your session.
WHAT IS THE DIFFERENCE BETWEEN SWEDISH MASSAGE, & TANTRIC MASSAGE, YOU MAY ASK?
If you are in the mood to totally kick back and zone out, my Swedish style may be the better option, to start. If you fancy learning some fantastic life style practices while receiving sublime feminine touch, then Tantra may be for you. If you are not sure which style to choose, I recommend starting with my Swedish style.
Tantric expands from Swedish in that incorporates enlivening techniques from the Vedic systems of yoga and meditation into the massage, so as to fully awaken ones erotic energy. This happens not just on a basic physical level, but also within the nervous system, and into the energetic and spiritual bodies. This awakening can have an incredibly positive benefit on one's mental outlook and intimate relationships.
Pranayama breathing is one of the key elements in a tantric massage. It employs elongated breathing patterns to engage the parasympathetic nervous system which creates deeper relaxation. It also makes use of a simple yoga technique called "mulabhanda pranayam" which engages the P.C. (pubacocygeous) muscle, in coordination with the breath, to move electrified erotic life force energy up and down the spine. This creates greater energetic control, clearing of the central channel of energy /  spinal column, and expanded self awareness & pleasure. Tantra sessions can also include partner meditation and a guided bath ritual, if requested.

*B2B ADD ON -plus $100

Indulge in a body to body upgrade, & experience the joy of full-body skin-to-skin contact. This tremendously tactile session is sure to put you in the zone, & can be added to my Swedish or Tantric styles as I guide you toward relaxation and release. Please be devoid of skin disorders; if you like to shave or wax your body, be sure to reduce abrasive stubble by doing so the day of!
*I cannot share this technique with the individual who is possessed of extreme body hair. If you like to shave or wax, please be sure to do so the very day we meet. No stubble!
MASSAGE FOR HER
Ladies massage can include full body application of specific Young Living essential oils, chosen to reduce inflammation and fatigue, and reduce tension in the back and shoulders. It is ideal to schedule for essential oil application when you will not have to shower immediately after, so the oils can be better absorbed. Sessions of 75 minutes or longer can include HOT STONE, creating earthy reprieve by focusing the heat held deep within the stones. Warmed to perfection, your muscles will thank you for the intensity.
B2B, or Babe2Babe, as I like to call it, can also be added to massage for her.
MASSEUR PRACTICE 
Giving massage is as important as getting it. If you wish to enhance your massage skills, you may have the opportunity to practice on me. Please be open to receiving suggestions. I enjoy the "untrained touch" and will both relax and receive, as well as give feedback. This time includes your massage as well.