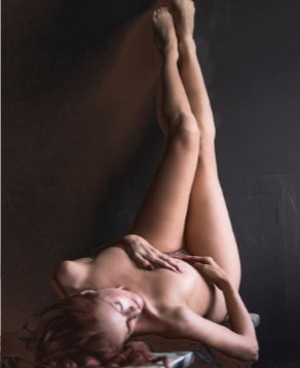 TRIBUTE / CASH ONLY
Please bring real currency to our first visit. For future tête-à-têtes I may be open to receiving your gift via a digital method.
I do not negotiate rates.
Gratuity is never expected, and always appreciated.
LATE CANCELLATION FEE
Sessions cancelled with less than 24 hours notice incur a fee of for 50% of the time reserved.
MASSEUSE: For Gentlemen Ages 21-59
$250 One Hour / $300 for 75 Minutes / $350 for 1.5 Hours
$450 for Two Hours / $550 for 2.5 Hours

Developing a tryst with a masseuse deserves more than one visit, and so I offer you 5 sublime approaches to sensual touch. For the most enjoyable experience, I ask that we stay focused on one massage style during each session.
Your time can take place on either my massage table, or a thai bodywork mat. You can let me know your preference beforehand, or just go with the set-up on arrival. The focus of the massage is on you.
SWEDISH sensual massage

~ 
Combining semi-deep pressure with feather-light feminine caresses, this massage transcends the "therapeutic." Unwavering focus on your fulfillment makes it easy to come completely into the moment. This stress-relieving session is a superb way to take time out from a busy day. Tribute your body, allowing all parts of you to be in the moment, at ease. My artful healing and focused touch will soothe your soul.
* Please note that I am not trained in deep tissue massage.
HOT STONE sensual massage

~
This style of massage creates earthy reprieve by focusing the heat held deep within the stones. Warmed to perfection, your muscles will thank you for the intensity. My lavish touch, combined with the elemental energy, provides deep relief.
TIE & TEASE sensual massage

~
Should you be in need of a firm, feminine touch, I would be thrilled to assume brief dominion over your masculinity.  Surrender to the sensuous intensity of this session, & be absolved of mental chatter and worldly distractions. I will enliven your skin with finger nails, feathers, & light flogging. Be consumed by enthralling  input as blood rushes to the boundary of your physicality.  This is a sensation play session, & does not incorporate hard core domination or tantra of any kind. Silk ties will make you mine, and a blind fold is optional.
For the eager adventurist, my 90+ minute Tie & Tease experience pairs slow and subtle edging with moments of surprising intensity.
Toys, stockings, and foot worship may be employed. Please send me a contact form describing what you have in mind, beyond the description of my T&T approach….
TANTRIC massage

~
Please communicate with me in an informed and confident manner as to what you would like to gain from a tantra session. If you fancy embellishing your erotic acumen, simply let me know how and why. I am authentically trained, and deliver the techniques with perspicacity. Have you ever felt lightning rippling beneath your skin? Are you subtly intoxicated by meditation? Does breathing make you tingle? Tantra integrates ancient eastern practices with deeply relaxing touch. Learn to ride the waves of kundalini energy as I guide you on an exploration of the senses. You can learn to experience greater control and increased duration, or simply surrender to sublime bliss. Connect with the root of your being and awaken your kundalini, or primal life force.
For longer sessions (75 minutes and more), I offer to begin our session with a bath ritual. This is a calming way to break the ice and ease into receptivity. Meditate through the primary energy centers, or seven chakras, while I guide you with subtle caresses into sensing your energy body. This ritual gives you time to deepen your breathing, release tension, and renew your mind, body, and spirit. To experience a bath ritual, please let me know when scheduling your session.

Prostate massage is plus $100
Couple's tantra (for ages 28-48) requires at least two hours, and is plus $50. This session takes place on a king size thai bodywork mat, & delves deeply into the techniques of expanded pleasure. Practices for deepening connection & cultivating electrified embodiment are shared, in tandem with all encompassing massage. 
WHAT IS THE DIFFERENCE BETWEEN SWEDISH  & TANTRIC, YOU MAY ASK?
Tantric differentiates from Swedish in that it employs elongated breathing patterns to engage the parasympathetic nervous system which creates deeper relaxation. It also makes use of a simple yoga technique called "mulabhanda pranayam" which engages the P.C. (pubacocygeous) muscle, in coordination with the breath, to move life force energy up and down the spine. This creates greater energetic control, clearing of the central channel of energy /  spinal column, and expanded awareness. Tantra sessions can also include partner meditation and a guided bath ritual, if requested. 
If you are in the mood to totally kick back and zone out, my Swedish style may be the better option, to start. If you fancy combining learning a few clever tricks with surrendering to sublime feminine touch, then tantra may be for you. If you are not sure which style to choose, I recommend starting with Swedish or Hot Stone.
B2B Massage- PLUS $100

This tremendously tactile session is sure to put you in the zone. Experience the joy of full-body skin-to-skin contact as I guide you toward relaxation and release. Please be in reasonably good health (not obese or radically hairy), and with no skin disorders. I can blend it with Swedish or Tantric massage styles for you.  
***      ***      ***      ***      ***      ***     ***     ***     ***
COMPANIONSHIP  – For the Ardent Gentleman, of

A

ge 24-54
If we have not met previously, please consider sending me a contact form. Including additional details, such as a provider reference, and your company website or LinkedIn, is much appreciated.
Kindly note my cancellation policy etc at the very top.
$375 for 45 Minutes / $500 for 1 Hour / $750

for 1.5 Hours 
$950 for 2 Hours  /

$1,350 for 3 Hours /

$1,700

for 4 Hours
$2,300 for Overnight (some sleep is nice) 
$5,000 for the Weekend with you 
$20,000 for an Exclusive Monthly Arrangement
My ideal patron is the congenial gentleman who values both an opulent interlude, and a secure liaison. From the girlfriend experience to the earth angel encounter, a variety of atmospheres await our perusal. Join me when you're ready to feel eternally, ecstatically alive, and together we will pursue heaven on earth. If you like, one or more of my various touch techniques can be included, per your preference.

Our date may begin with B2B massage, to relax us both and soften the mood. As tensions unwind and relaxation unfolds, we will embrace the glory of the sensual moment.

For the tantra enthusiast, I offer Kama Sutra sessions of 1.5 hours or more.  This is an exalted experience ritualized to open up the flows of "kundalini" (primal life force) energy in our bodies to an exponential level.
Dates of 2 hours or longer please, can include dinner (or breakfast, or lunch). You will have my undivided attention, & I enjoy diverse conversation. I can give you my best if we meet for dinner no later than 7/8pm, and am more than amenable to preparing myself to converse with you on certain topics (sports, politics, film, art).
Regarding my appearance: I will gladly dress up, dress down, or fulfill your fantasy with a specific outfit.
Please make wardrobe requests with enough time for me to accommodate them.
Sharing our vivacity with each other in a safe, protected manner is a must.