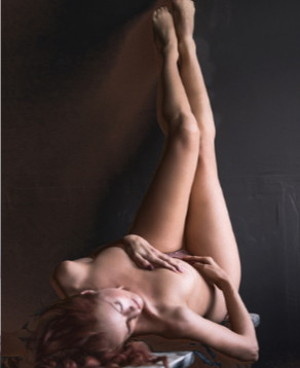 Developing a tryst with a masseuse deserves more than one visit, and so I offer you multiple opportunities to find your preferred style of sensual touch. For the most enjoyable experience, I ask that we stay focused on the style of your choosing during each session.
My incall is cleaned ongoingly, and there are air filters in each room. While I am fully immunized, I am happy to wear a mask during our meeting; just let me know in advance. My massage sessions are available to the good natured gentleman of age 25 to 65.
SWEDISH MASSAGE (60, 75 or 90 Minutes): Relax in the hands of good company, and enjoy my sensual effleurage technique. As an exciting dynamic joins the "therapeutic", unwavering focus on your fulfillment makes it easy to come completely into the moment. This stress-relieving session is a superb way to take time out from a busy day. Tribute your body, allowing all parts of you to be in the moment, & at ease. My artful healing and genuine presence will soothe your soul. I invite you to visit when you are in the mood to relax and receive; the focus is on you!  Your mini retreat into my urban oasis can include time in my ample soaking tub for 5 or 10 minutes before your hands on treatment. (75 or 90 minutes only)
* Please note that pressure varies from feather light to semi deep. (no deep tissue)

*B2B ADD ON (plus $100) for 75, 90 or 120 Minute Sessions, Incall Only :

Indulge in the bliss of full-body skin-to-skin contact. This tremendously tactile session is sure to put you in the zone, & can be added to my Swedish or Tantric styles as I guide you toward relaxation and release. While this technique does have some similarities to "Nuru", I do not use the nuru gel, but rather water dispersible massage oil that glides well.
*I cannot share this technique with the individual possessed of skin disorders. If you like to shave or wax, please be sure to do so the very day we meet. No stubble, and please be sure to use a new razor if shaving! I do not require waxing or shaving before B2B, but if you choose to do so, please do so properly and on the very day that we meet. If you have substantial body hair, please inform me in advance, as I will prepare a different kind of massage oil.
BATH & MASSAGE: 75 or 90 Minutes, request when booking!

Your mini retreat into my urban oasis can include time in my ample soaking tub for 5 or 10 minutes before your hands on treatment. If requested, essential oils and / or Sakura bath foam can be added to the water. The room will be tranquil with tea light candles and salt lamp lit ambiance, so you can soak away the flurry of the day, and prepare to relax and receive on my luxurious massage table. You will enjoy privacy and silence while in the water, after which we will  reconvene in the massage room.