Salutations, Adventurist! Are you ready to play?
Tie & Tease is available to the fearless Gentleman of age 25 to 60.

If you are new to Tie & Tease massage, or a FemDom style encounter, I would be thrilled to introduce you to the scintillating impact of sensation play. Get to know me as your masseuse, and come to revere me as  your Mistress. While you are in my care, everything that happens is by consent. If it isn't fun for you, it isn't fun for me!
Review my session narratives, and when you feel ready to chat about your interests, get in touch via this contact form. Once I have received your form, I am happy to further refine what our session will be about with  you when we meet, and before you say "Yes, Mistress". To interact with photographic narratives, visit my secondary Twitter: @DominaDahl

***
Meet a sensual FemDom of the highest caliber, one who loves her archetypal role, and the revelations it evokes. Experience this aspect of my nature when you are ready for an experience that exceeds the habitual renderings of pleasure & relaxation.  Leave your inhibitions at the door, & peruse the differentials between tranquility and intensity as you surrender to the firm, confident hand of your Mistress. I am the ruler of your senses, and revel in taking  you on a ride through entrancing sensations, and exhaustive stimulation.
WHAT IS A SENSUAL FEMDOM?
What is a sensual FemDom,  you may ask? She is a lavender lace & latex kind of femme, a clever creator who understands the potency of merging sensual touch with intense power exchange. When engaged in play with her chosen subject, she unfailingly maintains a trustworthy space for exploration. She wields uncanny feminine power , & is the guardian of your most arcane secrets.
Consent & safety are key elements;  you can let me know what level of pain / intensity you like, or if you don't like pain at all. You might depict what kinds of restraints you enjoy, your favorite forms of impact, and how much time you would like to spend crushed under my stiletto. Details on my interests & limitations, as well as toy play, are narrated below.
Typically you will be sessioned on my massage table. It is composed of leather and steel, and sturdy enough for this type of venture. Bookings of 1.5 hours or longer can take place on my queenly canopy bed, and include under bed restraints. Be sure to request this in advance.
SESSION WITH LADY SAVANNAH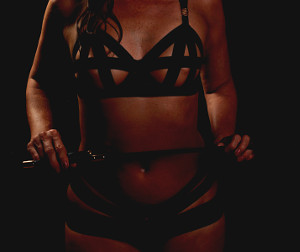 *TIE & TEASE MASSAGE (75 or 90 Minutes, Two or 2.5 Hours): This is a sensation play focused session that incorporates basic bondage, with an emphasis on impact play. Intensity can range from subtly seductive, to extremely physical. Feather light touch, fierce massage, & an array of tools and techniques will guide you into this experience. Playful restraints will make you mine, & invoke total reprieve in the moment. Surrender to the fabulous intensity of being sensually dominated, as I enliven your skin with finger nails, flogging & cropping. Be absolved of mental chatter and worldly distractions. Edgy pleasure will consume your heightened awareness as I command all of your senses. Priority is given to booking requests of 75 minutes or longer.
BONDAGE BODY SLIDE (Plus $100 – 75 or 90 Min., Two or 2.5 Hours):  You've fantasized about the lady in your life topping you…& now is your chance! Be dominated by my torso, my thighs, my bosom & my psyche as I subject you to boundless arousal. Using you as my sensual plaything is one of my favorite frivolities, as I glide my exquisite skin over your mortality without reprieve. For the robust adventurist, bondage body slide massage can pair slow and subtle edging with moments of surprising savagery. Nothing exhilarates you more than the tormentous totality of my erotic presence. You will be electrified by the ultimate fusion of gratification and domination, & the edgy pleasure of other amusements may consume you with heightened awareness.
*While my BB Slide session has some similarities to "Bondassage", or "Bondabody", I am not a Bondassage practitioner, so be sure to ask for this style by the name I have given it.
WHAT IS PLAYFUL BDSM, YOU MAY ASK? 
My playful BDSM techniques will introduce you to the excitement of being sensually dominated, or evolve your relationship to it. Erotic domination can be a stimulative tonic for the busy Chicagoan.  Should you crave immersion in a more instinctual, animalistic paradigm, be you brave or be you daunted, these rituals are for you. Playful BDSM reaches into the intellect, and can elicit one's most novel predilections. While I am not a lifestyle Dominatrix, I am an experienced FemDom; one who loves to tease & torture you, make you gasp & watch you wiggle. Don't be fooled by the sanguine sound of my hypnotic voice; every encounter with me is sure to deliver just the right amount of wrong. Bow down to kiss my boot, & breathe in my bewitching presence as I place my collar around your neck.
My incall contains essentials such as restraints, blindfolds, crops, floggers, Wartenburg wheels, and other toys.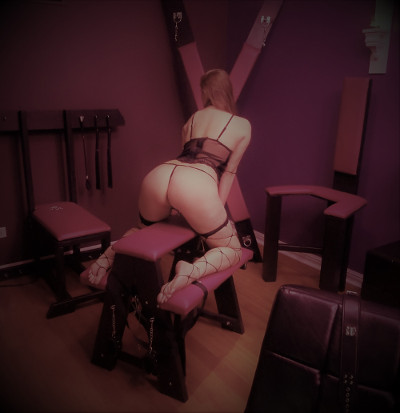 MY INTERESTS:
*bondage & restraints
*cosplay
*C.B.T. (my favorite)
*domestic training
*double goddess
*erotic torment
*femininization
*foot worship
*impact play (also my favorite!)
*pet play
*ruined O
*sensory deprivation
*tease & denial
*tickle torture
*toy play: advance request  from established client only; please be competent with cleaning techniques prior to arrival, or the session may end early
MY LIMITATIONS:
*pegging, P spot massage and strap-on are NOT on the menu; for P spot work see Natalia

*no topping from the bottom, or switching
*no sounding, crimson, scat, or medical play; no smoking or wrestling; no mummification 
*requests to be my domestic servant are for established subs, and is considered part of paid session time until a routine has been established