Hello! My name is Savannah, and I am a masseuse & companion based in Chicago. Flirtatiously sapient and beautifully natural, I am the quixotic gal next door you've always wanted to meet, and never knew existed. I adore the mystical, revere the physical, and prefer amethysts to diamonds. My sense of humour is machiavellian, and my heart is made of gold. I enjoy meeting new people, whether it is to repose in each other's company for a few hours, or to cultivate a life long friendship.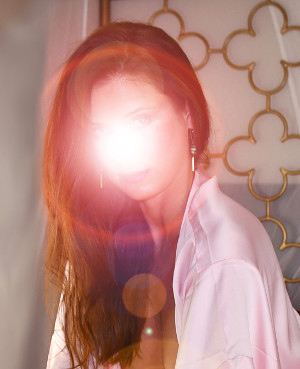 I maintain a slender artist's model physique; think Venus de Milo meets ballerina body. My tresses are auburn, and my eyes are eternally hued like a midsummer sky. Of Dutch & French descent, I bring a European sensibility to sensual relaxation.
My favorite color is deep dark violet, and for international travel, I like Cuzco, Peru. My favorite book is the Thesaurus, and I love any kind of cinema that is not murderous. When in college, my studies were focused on choreography, dance history, and ballet, modern and jazz techniques. As is common in the ballet world, I sustained an extreme injury, which called for a change in focus.  I transitioned my movement studies to yoga, and while immersed in the yogic arts and history of classical India, I came upon the fascinating practices of tantra & the kama sutra.
Though most of the time I'm an urbanite, I hunger for nature, and love thunderstorms and days at the beach just as much as I get a kick from shopping for new lingerie on Michigan Avenue. In my spare time, I catch up on cooking, sunbathing & studying Ayurveda. I keep fit with yoga and hiking, and live for unveiled immersion in blazing sunshine and numinous water.  With certifications in Swedish massage, Nutritional Consulting, Usui Reiki Level 3, & Sexological Bodywork, I bring a multidimensional approach to sensual exaltation.
My motto in life is "Pleasure first." After all, we have our whole lives to work. I believe that cultivated indulgence is time well spent. Being markedly blessed with a scintillating talent for touch, I find the giving of pleasure to be thoroughly empowering. I've been blessed to receive training in the tantric temple arts with Goddess Martine, Chandra Devi, and Caroline Muir, as well as Kundalini Yoga Teacher Training. One can never be too learned, or too sybaritic, I feel. I am fascinated by all that we are, and all that we can become, and delight in expanding the horizons of those who are ready to venture…
Please take a moment to look over my service menu, and find exactly what you need today.
P411 ID #: P133109
---
| | | |
| --- | --- | --- |
| Name: Savannah Dahl | Main City: Chicago, IL | Sex: Female |
| Body Type: Toned | Measurements: 36B-28-39 | Height: 5′ 9″ |
| Weight: 135 lbs | Ethnicity: Caucasian | Age: 33 |
| Eye Color: Blue | 1st Language: English | 2nd Language: Spanish |
| Hair Length: Medium | Hair Color:Auburn | Breast Implants: No |
| Tattoos:  None | Body Piercings: None | Smokes: No |
| Likes: A sense of humor and great communication | Dislikes: Excessive Personal questions, Smoking Just Before Arrival | Accept Credit Cards: No |